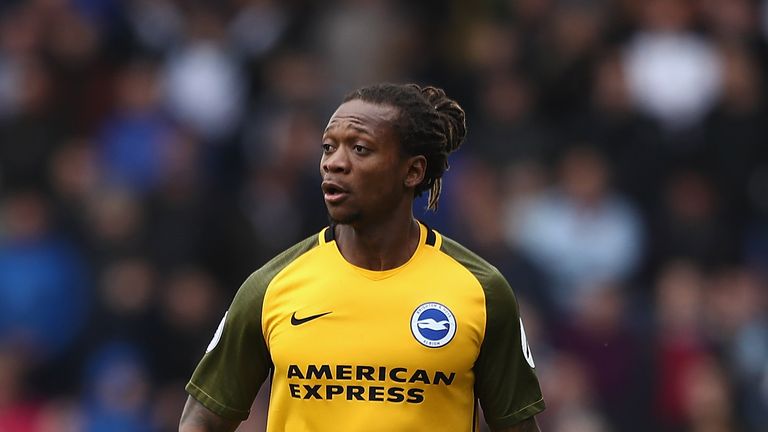 Gaetan Bong was booed by Burnley fans during Brighton's goalless draw at Turf Moor.
The FA has condemned the behaviour of a number of Burnley fans who booed Brighton's Gaetan Bong during Saturday's 0-0 draw at Turf Moor, calling their behaviour "unacceptable".
Earlier this month, former Burnley forward Jay Rodriguez's charge of discriminatory misconduct towards Brighton defender Bong during a game in January was found not proven by the FA.
Brighton boss Chris Hughton was unhappy with the reception Bong was afforded at Burnley, where home supporters also chanted "Jay Rodriguez, he's one of our own".
Burnley native Rodriguez, 28, began his career with the Clarets, making 105 appearances and scoring 31 goals for the club, before joining Southampton in 2012.
Hughton called the behaviour of Burnley's fans "shameful" and the FA have now followed suit in criticising it.
 The FA said in a statement: "The FA considers the behaviour of some supporters on Saturday towards Gaetan Bong to be unacceptable.
"It needs repeating, following the recent disciplinary matter, that there was no suggestion by any party involved in that case that the player made a malicious or fabricated complaint. The FA was wholly satisfied that the complaint was made in absolute good faith.
"The FA takes all allegations of discrimination extremely seriously and continues to encourage all participants who believe that they have been the subject of or witness to discriminatory abuse to report this through the appropriate channels
How do you think FA can end discrimination abuse? : CLICK HERE
Comments
comments