Germany are out of the World Cup following a dramatic 2-0 defeat by South Korea in their final game in Group F. The defending champions finished bottom and the recriminations will begin. But what exactly went wrong for Joachim Low and his team?
The clues were there in the opening game defeat by Mexico and there was further evidence of Germany's flaws in their unconvincing last-gasp victory over Sweden in the second fixture. But being beaten by a hitherto point-less South Korea side in the final game really rammed home the point. This was a pitiful defence of their crown.
European teams are making a habit of this. Spain were also eliminated in the group stage when defending the trophy four years ago. Italy finished bottom when attempting to repeat their 2006 triumph in South Africa and France did so too in 2002. The last four European teams to go into the tournament as champions have now gone out in the group stage.
But what is the reason for it? Here, we take a look at the key factors in Germany's failure…
Growing old together
When a team wins the World Cup it is customary to keep the group together – and that includes the coach. But just as Italy's Marcello Lippi and Spain's Vicente Del Bosque relied on a clique of familiar faces to deliver the goods again, Joachim Low found himself counting on players who could not produce the performances of four years earlier.
Thomas Muller scored five goals in each of the previous two World Cups but could not even muster that many attempts this time around and was dropped for the final group game. Mesut Ozil did not even last that long – axed for the win over Sweden but then restored to the starting line-up against South Korea. Both looked shadows of their former selves.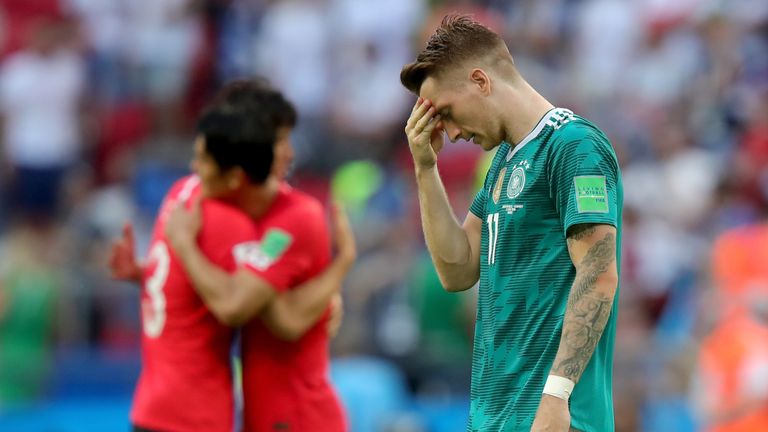 Sami Khedira fared no better and at 31 did not have the legs to cover for marauding full-backs as he once had. Toni Kroos did not hit his best form despite his stunning strike against Sweden but Khedira was the bigger problem as – much like Javier Mascherano for Argentina – he was no longer capable of doing the dirty work alongside the team's playmaker.
Mats Hummels and Jerome Boateng had once had the perfect blend of technical excellence and athleticism but the famous partnership did not get the protection they needed against Mexico. Meanwhile, Manuel Neuer, who provided the denouement in Kazan when dispossessed for the second goal, had not even played a Bundesliga game since September.
Changes did not work
If Low should have freshened things up more than he did, those changes that he did make were not effective. Much was expected of young forward Timo Werner and while the RB Leipzig man injected pace in forward areas he is a very different type of player to Mario Gomez. It necessitated a change in approach but Germany just could not make it work.
Other options were ignored. Leroy Sane did not even make the squad for Russia, a brave call given his brilliance for Manchester City despite failing to impress at international level. But that was just part of Low's inability to successfully integrate the next generation of talent. Julian Brandt was preferred to Sane but even he got only 19 minutes across the three games.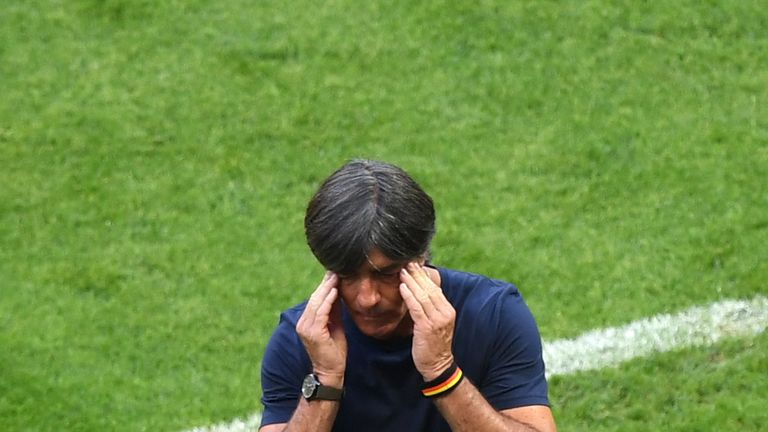 Victory at the Confederations Cup had hinted that the younger players were ready. It was achieved under the captaincy of Julian Draxler and without Neuer, Boateng, Hummels, Kroos, Khedira, Muller or Ozil in the squad. All seven were restored to the starting line-up for the first game at this World Cup. With it, that sense of renewal was lost.
Low figured that out far too late and found himself scrambling for answers in Russia. The result was that there were only three outfield players who started every match as Germany's embarrassment of riches morphed into mere embarrassment. It is simply impossible to argue that Low maximised the talent that was at his disposal.
What happens next?
This Germany squad must run the gauntlet back home as a country comes to terms with their first ever group-stage exit – the first time that they have been eliminated before the quarter finals in 40 years. Having returned home from Brazil as heroes, it will be another world for these players and this manager in the coming weeks and months.
Low recently agreed a new contract but there are no certainties now. "It is too early," he said in a post-match interview with ZDF. "I need a few hours to see it clearly. There is disappointment deep within me. I need to have some conversations tomorrow." He will not be the only one considering his future in the wake of this disappointment.
Fifteen of this Germany squad will have turned 30 by the time that the next World Cup in Qatar rolls around so do not expect too many of them to cling on for long. "German football has lost not just a match, but everything we have built in the last few years," added Low. But even the best of buildings need refurbishing. Instead, Germany crumbled.
Comments
comments