Frank Smith, CEO of Matchroom Boxing, talks to Sky Sports about his role with the company and whether he could eventually succeed Eddie Hearn?
So when did you first come to work for Matchroom Boxing?
I met Eddie when I was just 14-years-old and pushed him for a job from then on, before, at 16, I joined the company. I don't think I necessarily just wanted to be in sports, but that's just how it went for me thereafter.
I started off delivering teas, coffees and pizzas, putting advertising boards on golf courses, helping on everything really. I moved through sports and then, about six or seven years ago, moved into boxing.
Explain how you've grown into your current role as CEO?
Good day finished…… good catch up with AJ BXNG planning the next move 👊 pic.twitter.com/5k3VLts9jd

— Frank Smith (@Frank_1_Smith) May 22, 2017
I firstly became a sales assistant when I started which mainly involved helping out with selling hospitality and ticketing to various events. After that, I went into operations, then head of operations and now I'm a CEO of the company.
At the moment, I spend a week in the UK and a week in the USA, on and off, overseeing the whole business across the board dealing with many things.
Would you say you're similar to Eddie Hearn?
I think Eddie is hard to rival, there's not many people out there like him. He's got that natural ability to sell anything to anyone. I enjoy what I do, dealing with the business and boxing side of things.
In time, I'll get more involved in the press conferences as we do more and more shows, nearly 40 a year. I'm not going to say I will rival him because he will say 'there's no one better than him' and I'd agree, he's the best at what he does, but I'll give it a go.
You seem to have a very close relationship with Eddie…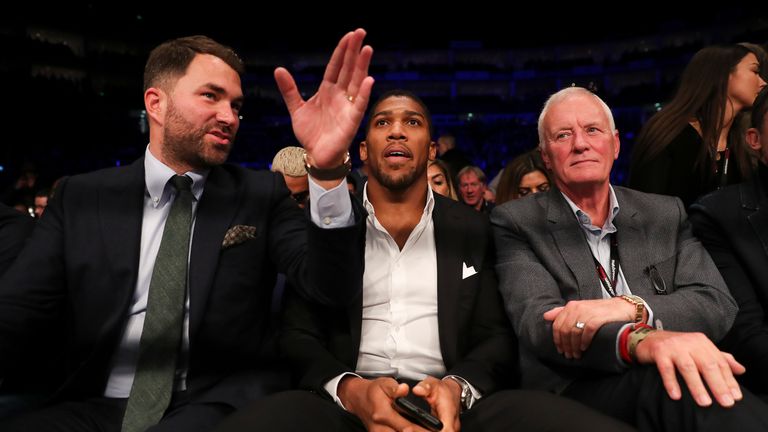 We speak every day, I've worked with Eddie for nearly 10 years and I've probably spent more time with him in that period than I have my own family.
We get on very well and I'm probably lucky I can speak to him in a way maybe others can't, I can be very open with him and we talk about a lot of decisions together. I'm lucky I've been given that trust.
If Eddie did decide to move away from boxing, could you take over?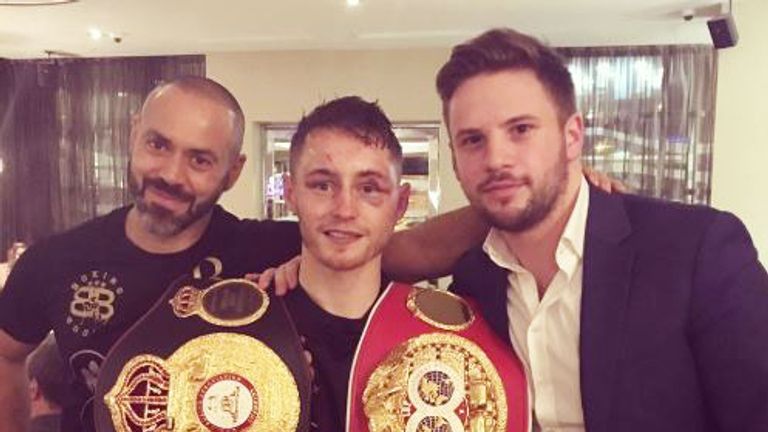 I'd certainly give it a go, but I don't think he will be going anywhere too soon.
I've moved through a number of different roles and I feel I have a great understanding of what we do. I've spent a lot of time with Eddie so I listen to everything he says. Whether I would be able to rival him, who knows?
Would you say he's taught you most of what you know?
I've learnt a lot from Eddie and Barry [Hearn] as well. I spend a lot of time with both of them and they have great experience and knowledge.
I'm lucky they've involved me and that has given me the grounding and understanding of what we now do and it's given me the ability to help grow the company.
You've made the move to America to expand the company. Is it a big challenge?
It is a challenge for us but it's exciting. You won't go anywhere by just taking the easy route in life and we're looking forward to the years ahead. The opportunities are endless for us there and it's a huge market.
As we've seen with many big US companies, the UFC, for example, they've grown that business amazingly to where it is. Once people start seeing what we can deliver, we can do a job and bring the sport of boxing back to an engaging level like we've done here in the UK.
I always saw what could be created with the company because they've done it with many events in so many different sports. There was always room to carry on growing.
The sport of boxing will continue to get bigger and bigger and with the USA expansion, the business itself will definitely keep growing.
When will fans get news about signings and fight dates in The States?
In the next couple of weeks, we will start announcing our first show or two. The other thing that is great for the UK fans is the investment that we will make into our UK events.
The US broadcast deal means a lot of money will be put into the UK shows as well. There's a lot to be excited about as we carry on helping grow the sport.
In your job, is there a particular moment that stands out as the highlight?
The AJ-Klitschko show at Wembley was probably my highlight. When you're working day in day out you don't always realise the magnitude of what is going on.
But when you walk out at Wembley with 90,000 people and you look round and think 'we've put this together', that's amazing. Seeing a packed audience and realising you've delivered a great event is really important to me.
Comments
comments