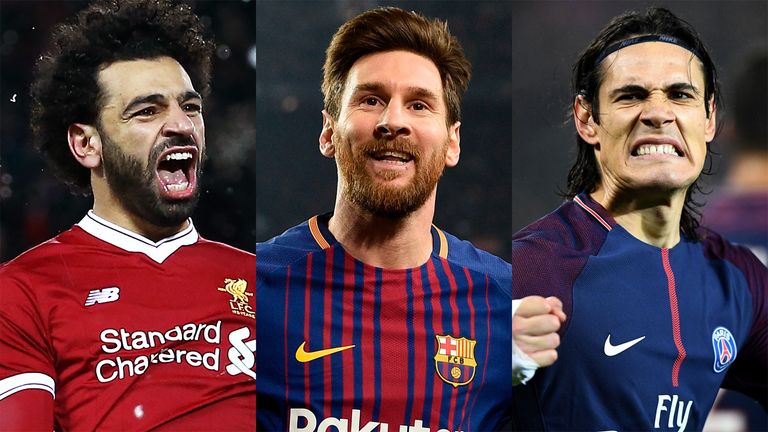 Lionel Messi's hat-trick in Barcelona's win at Deportivo on Sunday saw him overtake Mo Salah in the race for the European Golden Shoe.
Messi's 41st club hat-trick helped Barcelona confirm their La Liga title triumph with four games remaining, reaching 550 goals for Barcelona in 634 appearances.
That puts the Argentine on 64 points, two clear of Salah, who had seven shots in the 0-0 draw with Stoke on Saturday, but could not hit the target.
Messi, who won last season's European Golden Boot having scored 37 times to finish with a total of 74 points, is now in pole position for another individual title, and has four league games remaining compared with Salah's two, starting with the Clasico on Sunday evening.
In third place is Lazio's Ciro Immobile, just two goals behind Salah and three behind Messi; the Italian has three Serie A games remaining to make up the deficit.
Who will win the European Golden Shoe?
Robert Lewandowski of Bayern Munich is in fourth (28 goals, 56 points), while PSG's Edinson Cavani and Inter's Mauro Icardi have 27 goals (54 points). Tottenham striker Harry Kane is in seventh with 26 goals (52 points).
If Messi does stay ahead of Salah, it would make him the first player to get his hands on the European Golden Shoe five times (2009/10, 2011/12, 2012/13, 2016/17).
Salah has just two games to catch Messi in the race for the Golden Shoe
Were Salah to overtake Messi in the final few weeks, the 25-year-old would become the first Premier League player to be crowned Europe's top marksman since another Liverpool forward, Luis Suarez, shared the award with Real Madrid's Cristiano Ronaldo four years ago.
Ronaldo was the last player from the English top flight to win the European Golden Shoe outright, after scoring 31 goals to help Manchester United claim the 2007/08 Premier League title.
Race for the European Golden Shoe
| Name | Goals | Points | Games remaining |
| --- | --- | --- | --- |
| Lionel Messi | 32 | 64 | 4 |
| Mo Salah | 31 | 62 | 2 |
| Ciro Immobile | 29 | 58 | 3 |
| Robert Lewandowski | 28 | 56 | 2 |
| Edinson Cavani | 27 | 54 | 3 |
| Mauro Icardi | 27 | 54 | 3 |
| Harry Kane | 26 | 52 | 4 |
* Since the 1996/97 season, the Golden Shoe has been awarded based on a points system, with goals scored in Europe's top five leagues – according to the UEFA coefficients – multiplied by a factor of two
Comments
comments