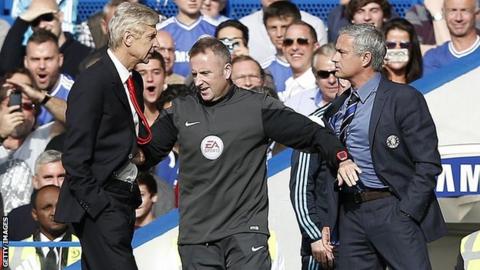 Arsenal manager Arsene Wenger says he wants the final month of his 22-year tenure to "go peacefully".
The 68-year-old Frenchman announced last week  that he will leave the Gunners in the summer.
Arsenal face long-time rivals Manchester United in a Premier League match at Old Trafford on Sunday.
"You should leave me and give me a little peace for my final weeks and not try to push me into final confrontations," said Wenger.
United manager Jose Mourinho said on Friday that he had regrets about "episodes and words" involving the Arsenal boss, whom he believes may feel the same.
Mourinho has previously described Wenger as "a voyeur" and a "specialist in failure".
Wenger said: "I respect him of course, I respect him a lot. And I don't want to go into individuals. I want to go peaceful and with Mourinho as well because he is a great manager."
The Frenchman, though, is not convinced he will be warmly welcomed in Manchester.
"I always got a great reception at Old Trafford, " he joked.
"I don't know what kind of reception I will get but we will be focused on winning the game. We always had some great battles in 22 years."
Sunday's match will be Wenger's 28th at Old Trafford against United, and he says he has no regrets about declining an approach from Red Devils chairman Martin Edwards when long-term foe Sir Alex Ferguson was considering retiring in 2001.
"Arsenal is the love of my life," he said. "I turned many, many clubs down to stay here and face the challenge of building the stadium.
"I spoke with everybody. I met Martin Edwards. I am always loyal to this club."
United or Arsenal won the Premier League title in every season between 1995 and 2004 , and matches between them were seldom tame.
And Wenger has acknowledged just how good United were at that time.
"You realise only today what a great team they had," he said. "An unbelievable team. I realise that better with a distance than at the time."
Comments
comments