• Team key in Champions League final with Real Madrid, he says
• Wijnaldum: 'We know their quality, they must be aware of ours'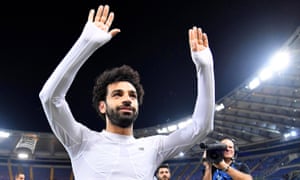 Mohamed Salah has said the Champions League final against Real Madrid will be a showcase of Liverpool's collective power and not a personal duel with Cristiano Ronaldo.
The Egypt international will cap his stunning debut season at Liverpool with a first Champions League final appearance in Kiev on 26 May, when Jürgen Klopp's side will seek to end Real's recent dominance of the European Cup. By contrast, Ukraine will play host to Ronaldo's sixth Champions Leaguefinal , with the competition's all-time leading scorer having won the trophy three times with Madrid and once with Manchester United.
Salah, with 43 goals this season, is seen as the biggest threat not only to Real in Kiev but to the dominance of Ronaldo and Lionel Messi over the Ballon d'Or. The Liverpool forward is targeting a bigger prize, however: the club's sixth European Cup.
"I know all of the Arab people wish the best for me, and they are happy every time I win, but now at the moment I am only thinking about the final and to bring the trophy to Anfield," Salah said after Liverpool's semi-final victory over Roma.
"It is not going to be a final between Mohamed Salah and Cristiano Ronaldo. I am playing for a great club and we have great players, so qualifying to the final came with great teamwork. I cannot do it alone – it is collective work. When we score a goal it's because we are all doing good, when we concede it means we all need to work harder."
Georginio Wijnaldum, who scored his first Liverpool away goal at Stadio Olimpico on Wednesday, admits Real will present the most difficult challenge of his career.
"It is probably the biggest test we could have had, the biggest I've had as a player," he said. "It's going to be difficult, but for both clubs. Everyone in the Champions League has quality. We have to be aware of their quality but they have to be aware of ours. They are not the only team with quality or the only team that can win games
"The Champions League is the biggest competition you can play at club level so if you can go in your first season to the final it's a great feeling. But then you want to win the final now, so you can't relax."
Wijnaldum made a beeline for Andreas Kornmayer, Liverpool's head of fitness, after heading Klopp's team into a 2-1 lead in Rome. He explained: "We already had an agreement a few games ago that I would run to him if I scored but it didn't happen. He said a few times that I'd score but then he forgot. Then before Roma he said I would score, so I had to!"
Despite concerns over security in the buildup to Liverpool's visit to Rome the semi-final passed off relatively trouble-free. One visiting fan was arrested for a public order offence and the most serious problem on the night was access to the stadium for the 5,000 Liverpool supporters. Only three turnstiles were available for away fans, who had to wait several hours to gain access to Stadio Olimpico.
Uefa is awaiting reports from the game before deciding what action, if any, to take.
which club do you think will win  LIVERPOOL OR REAL MADRID?
CLICK HERE
Comments
comments