The Liverpool forward has reached demi-god status in his home country and even Egyptian Real Madrid fans want him to win the Champions League final against the Spanish side.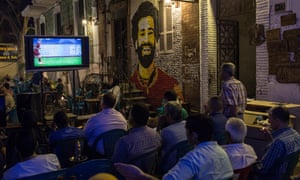 In a coffee-house down a Cairo sidestreet, the Roma v Liverpool game almost starts with a row among the customers. The previous game on the television featuring the local favourites Zamalek risked running into extra time, past kick-off for the Champions League  tie. A Zamalek goal in the 89th minute saved any blows: No one wants to miss Mohamed Salah.
"He plays in a beautiful way – and he's always developing," says Mohammed Hassen, a 23-year-old originally from Sudan but raised in Egypt. "He brings pride to people as he's a Muslim who's made it in the top leagues. He brings pride to all Arabs," he adds.
Comments
comments