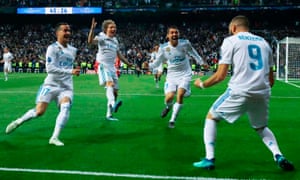 Real Madrid always find a way, they say, and somehow they did – all the way to a third consecutive European Cup final. For so long, they had the Bavarians at the gates, the Bernabéu gripped by fear, but when a long, wild, tense and often inexplicable match was over and the siege subsided at last, there they were, still standing. A goal down after three minutes, Real were not safe until the very end but it is they, not Bayern Munich, who made it to Kiev. The world's biggest club, 12 times winners of this competition, finalists for the fourth time in five years, are also its greatest survivors.
"The European Cup releases special powers in Real Madrid," Toni Kroos had said; it does something to their opponents too. For Bayern, 39 shots over two legs proved less decisive than three gifts, each greater than the last. This time it was Corentin Tolisso's back pass and Sven Ulreich's moment of panic that cost them, an error that lent credence to Franz Beckenbauer's suggestion that Bayern have a "complex" when it comes to Real. And yet for a long time it appeared they might overcome even that.
The problem was that standing before them, diving before them too, were the team who know that to resist is to win, making a virtue of suffering, a word Zinedine Zidane uses often. This time they suffered like never before: when one last ball was sent into Real's area, desperate whistles bursting ear drums, the clock beyond 95 minutes, they might have wondered if for once fate would be cruel. Instead, the ball escaped Thomas Müller, the referee blew for the last time and the roar rocked this place. Ulreich sat distraught and alone on the turf as the noise engulfed everything. "That's how Real win!" they chanted, but how, exactly? Real win because, well, Real win. Even when they don't actually win. It finished 2-2 but those two goals from Karim Benzema were enough. A 2-1 win in Munich had allowed it, the tie finishing 4-3 on aggregate.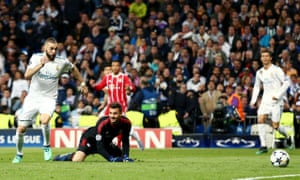 It had been a long night. Zidane had said the key was "not to take a step back, not to try to hang on to the result, but to go for it from the start", but in the end hanging on was what they did. Jupp Heynckes insisted the first leg showed Real could be hurt and it was his side who began on the front foot, swiftly levelling the aggregate score. When Joshua Kimmich struck from close range it was not even the first time Bayern had ventured into the Real area.
James Rodríguez playing deep
, finding space, red shirts seemingly outnumbering white, the balance tilted Bayern's way. But hurting Real is one thing, killing them another.
Although Marcelo's superb cross was headed in by Karim Benzema to make it 1-1 in the 11th minute, Bayern had always needed two anyway and continued to press. In a match that was marked by missed opportunities, the most astonishing came after half an hour. Mats Hummels went past three and slipped the ball into the area for Robert Lewandowski, alone. His shot looped up off Keylor Navas and Müller leapt to head goalwards, the ball hitting Marcelo's back. It dropped to Rodríguez, who volleyed over from three yards.
Soon after that Cristiano Ronaldo forced a save from Ulreich, a reminder of the risk and Bayern must have felt that they needed another goal before half-time. The Bernabéu, whistling for the half to end, certainly feared one. Tolisso curled over and then Marcelo handled before Lewandowksi forced a corner. Hummels headed wide. The chance, it seemed, was gone.
Thirty seconds into the second half, it seemed it really had. Tolisso played the back-pass blind and Ulreich froze, wanting to pick it up before realising he could not and effectively just sitting down, collapsing and allowing the ball to escape him. Benzema, barely able to believe it, strolled past to score – another "gift" to add to the two Heynckes lamented in the first leg.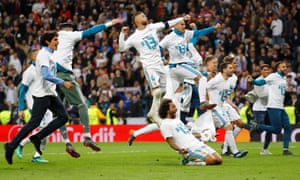 David Alaba's shot was pushed away by Navas and then Lewandowski tumbled, challenged by Sergio Ramos, as Bayern kept coming. White bodies were on the line, just like in the first leg, roars accompanying every block, save and header. Tolisso could not force home and, on the hour, first Thiago Alcântara and then Lewandowski fired goalwards, before the equaliser arrived. James volleyed Niklas Süle's cross, reacted swiftly to the rebound and guided under Navas. A former Real player, he did not celebrate but high in the north stand the German fans did.
They were just a goal away now, the game on a knife edge. But if there is a team capable of living on the edge, it is Real. Tolisso connected with a volley six yards out and Navas made a superb save.
It was the 18th shot Bayern had had, one more even than in the first leg, yet still they trailed. The deliveries from the left were endless – from one, Navas scrambled away Müller's header and from another he punched clear. A scramble was hacked clear and in the fourth minute of added time Navas saved once more.
Time slipped away, hearts raced and one last cross was played in, once more into the fray. Müller launched himself at it but the ball evaded him, taking the final with it.
who do you think will win in the world cup? click here
Comments
comments