Marcelo Bielsa will leads Leeds United's Championship challenge this coming season. With the help of those who have worked with him and studied his methods, Adam Bate delves deep into the world of Bielsa to find out just what to expect at Elland Road.
Leeds United have gone straight to the source. Perhaps the most influential football coach in the world today will be pitting his wits in the Championship next season. Marcelo Bielsa, the former Chile and Argentina manager, has signed a two-year deal at Elland Road with an option for a third. If he remains for even one season it promises to be spectacular.
But despite his reputation, Bielsa's greatness is not immediately obvious when examining his track record. The 62-year-old Argentine has never won a trophy in Europe and even presided over what was arguably his country's worst ever performance at a World Cup. His influence is most apparent in the success of those who consider him a mentor.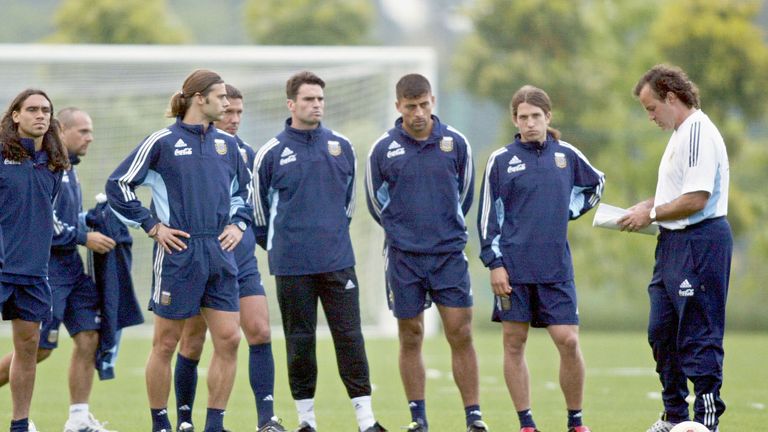 "It doesn't matter how many titles he has had in his career," said Pep Guardiola. "For me, he is the best coach in the world." Atletico Madrid's Diego Simeone says he has influenced him more than any other coach. Another compatriot, Mauricio Pochettino, calls him his football father. "We are a generation of coaches who were his disciples," said the Tottenham boss.
In coaching circles, his name is truly revered. Bielsa is the special one. Dutch coach Jan van Winckel, who worked with him at Marseille, once likened the experience of watching his teams to listening to Beethoven's ninth symphony. But what is it about how Bielsa has broken the game down that makes him such a significant figure for the theorists?
What is his philosophy?
Summing up his philosophy is not so easy. Jed Davies, author of The Philosophy of Football: In Shadows of Marcelo Bielsa, even wrote an entire book about it. "Movement, rotation, concentration and improvisation are the components that Bielsa would outline and celebrate when describing his own philosophy," Davies tells Sky Sports.
Perhaps the most crucial aspect of Bielsa's vision is that the approach he advocates reconciles one of the biggest ideological challenges for followers of the game. "Many young coaches and fans go through these two polarising ideas," explains Davies. "Firstly, we dominate the game with the ball. Secondly, we win the game by being direct."
As a result, most coaches settle on a style of play that is built around one concept or the other. They either favour possession or the counter-attack. Bielsa attempts to fuse both. During his two seasons with Athletic Bilbao, only Spain's big two played more short passes. But Bielsa's possession was anything but passive. Athletic were still incredibly direct.
Perhaps this is why Bielsa's influence is not prescriptive. Some of those who claim to have had their careers shaped by his ideas share neither a formation nor a style. Instead, his influence appears to derive from the fact that he has triggered the thought processes of so many. He has caused some of the game's greatest coaches to think deeply about the game.
Every team wants to score goals but few coaches have devoted so much energy to working out how best to do it. One of the key performance indicators that Bielsa identifies in his analysis is the number of times that a player is able to penetrate the opposition with either a pass or a dribble – breaking through the lines of their defence.
"This simple idea alone, that we can attach value to a player's passes and decisions, was something new for most coaches," says Davies. "Importantly, it takes the focus away from belonging in one of the two polarising schools of thought. He is the coach you research who takes you to a more elevated way of thinking about how to dominate the game."
Anthony Hudson, the former New Zealand manager, now with MLS side Colorado Rapids, is one of many to make the pilgrimage to watch Bielsa on the training ground. Speaking to him soon after that experience, he remained in awe. "I've fallen in love with how he works," Hudson told Sky Sports. "The style of his teams is like something I've never seen before.
"To go and watch him get his philosophy across changed my outlook on coaching. Everything they do on the pitch, including the smallest of press or little bit of wide play or a cross from deep, they worked on it in minute detail. It's high energy, always wanting to attack and win the ball back as quickly as possible. It's just a really positive approach."
When it works it can be spectacular, a kaleidoscope of movement leaving opponents bewildered and fans enthused. English audiences were particularly enthralled when Bielsa's Athletic Bilbao team went to Old Trafford and played Sir Alex Ferguson's Manchester United off the park. They not only won the game 3-2 but it looked like the future of football.
Working with Bielsa
It may have been easy on the eye but it was also a product of Bielsa's famed attention to detail – as Carlos Vicens can confirm. Now working in the Manchester City academy, Vicens was hired by Bielsa to scout opponents and analyse potential signings. He prepared reports on Ander Herrera, Benat and Mikel Balenziaga prior to their arrival in Bilbao.
"We studied all of Herrera's performances for Zaragoza before we even knew he was going to be signing for Athletic," Vicens tells Sky Sports. "We spent hours and hours reviewing and planning so that he would be ready to talk individually with him and every other player in pre-season about what was expected of them."
Such is Bielsa's dedication to the detail that Vicens also had the vast task of "analysing how goals were scored all over the world in order to design new training drills" that season. His reasons for being drawn to Bielsa are familiar ones. "I think anyone who gets to know a bit about Marcelo ends up admiring him," says Vicens, who also worked for him at Marseille.
"It is his strong values as a coach but also as a human being. His teams always play with an attacking style, pressing high up, never speculating, always trying to have the ball and be brave. He gets his teams to play as though they are one of the top teams in the league even if they are not even close to being one of them. Athletic were a great example."
Unfortunately for Bielsa, when it goes wrong, it can unravel quickly. Athletic failed to win any of their last six games in that otherwise impressive season, being well beaten in two cup finals. Herrera recently spoke of them being a completely different team during the run-in because they simply could not run any more. They had hit the wall.
At Marseille, Bielsa's team were top of the table at the halfway stage before fading badly. At Lille last time out, he did not even keep his job beyond that halfway point. So will Leeds be a good fit for this adventurous style of play or could the gruelling 46-game Championship season prove Bielsa's undoing? As ever, expect the Argentine to be well prepared.
Will it work at Leeds?
There are already reports that he has watched every Leeds game from last season – no mean feat as the club's long-suffering supporters well know. Bielsa will be aware that there are grand traditions at Leeds but also that the club is crying out for something new. The fans have been let down, frustrated, battered, bruised and bored. Now they are excited.
"Marcelo always gets involved in the culture and the idiosyncrasies of the clubs he works for and he only accepts projects that have a special meaning for him," says Vicens. "He has super strong values and never goes against them, even if it means leaving the job. He shows actual passion for the game, always trying to know more and study new trends.
He adds: "In the end, it is not only about the supporters of the teams he coaches – they always end up loving him – but it is the general public who like football. They all feel some kind of admiration for him because you do not find coaches with his values, commitment, attacking style, huge intelligence and passion, and with strong identity in their teams."
There are plenty of iconic coaches in the Premier League right now. But perhaps the most influential coach of them all will be overseeing training at the Thorp Arch training ground of Leeds United. It will be a wild ride for the fans. For everyone else, finding out what football's philosopher-coach can do in the Championship promises to be just as fascinating.
Comments
comments