The Arsenal midfielder says he agreed financially reduced contract but needs to be playing regularly
Jack Wilshere has confirmed he will leave Arsenal when his contract expires on July 1 after new boss Unai Emery failed to give him assurances of regular playing time.
After an extensive meeting with the Spaniard, Wilshere says he was informed his game time would be "significantly reduced" and he insists he needs to be playing regularly at this point in his career.
The 26-year-old revealed he even agreed to sign a financially reduced contract after several months of negotiations in order to commit his future to the club at which he has spent the past 17 years.
#GoodLuckJack pic.twitter.com/vPpNZGG9PB

— Arsenal FC (@Arsenal) June 20, 2018
On Instagram, Wilshere said: "Following a number of extensive conversations with those at the club, and in particular a recent meeting with the new manager Unai Emery, I felt that I was ultimately left with little choice but to make the decision that I have due to purely footballing reasons.
"As has widely been reported I, along with my representative, have been in talks with the club for a number of months with the view to signing a new contract to extend my stay at the Emirates.
"My intention throughout these discussions has always been to remain an Arsenal player. I have been on the books at Arsenal for 17 years and have always felt part of the fabric of the club. Such was my desire to stay that I had in fact recently agreed to sign a financially reduced contract in order to commit my future to the club.
"However, following my meeting with the new manager, I was made aware that although the reduced contract offer remained, it was made clear to me that my playing time would be significantly reduced should I decide to stay.
"I am sure everyone can understand that, at this point in my life and career, I need to be playing regular first-team football and following my meeting with Mr Emery I came away with the feeling that it would be very difficult for me to do so at Arsenal.
Disappointed to hear the news.I know exactly what Jack is going through & it is heartbreaking knowing that you have to leave Arsenal Football Club. I wish you all the best in the future and hope you find the happiness again in playing the game you love. @JackWilshere ❤️❤️❤️ pic.twitter.com/kagGpP6ITS

— Ian Wright (@IanWright0) June 19, 2018
"Given this, I feel I have no option but to pursue other opportunities in order to progress my career on the pitch."
Newspaper reports have linked Wilshere with moves to Premier League sides Fulham, Crystal Palace, West Ham, Everton and Wolves, as well as Serie A clubs Juventus, Sampdoria and AC Milan – and the player says he is "fit, sharp and strong" but will take time to consider his next move.
Arsenal, who included Wilshere in their initial promotional material for their new home kit, responded to Wilshere's announcement by placing their thanks for his contributions, especially towards two FA Cup titles in recent seasons.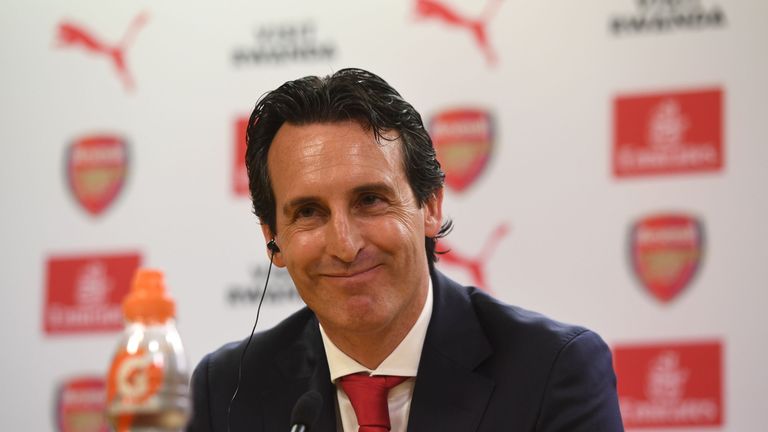 "Everyone at Arsenal would like to wish Jack Wilshere a successful future following his decision to seek new opportunities," a statement read. "Thank you Jack for your contribution and the fantastic memories. Good luck in the future."
Wilshere calls time at the Emirates after 197 appearances and 14 goals in all competitions, having become one of previous boss Arsene Wenger's most promising academy graduates.
Wilshere said: "I have experienced some incredible times at Arsenal and have met friends that will last a lifetime. I leave memories that will stay with me forever from my time at the club.
"From making my debut at such a young age, to playing in the Champions League and of course winning two FA Cups in consecutive seasons, there are just too many highlights to mention.
"There will be the opportunity to talk properly when the time is right but for now I would just like to thank everyone at the club for everything over the past 17 years, in particular Arsene Wenger and his staff, all of my team-mates over the years, everyone at the club academy for helping me to fulfil my dream and of course the fans, who I have always shared such a special relationship with.
"I will never be able to truly repay the love, faith and belief that the fans have always shown in me. It's meant so much to me and my family over the years and I hope you are able to celebrate the success you deserve in the coming years. Thank you."
"I would like to place on record my respect for Mr Emery and my appreciation for his honesty and candour, and I wish him, the team and the club all the very best for the future."
Comments
comments