it is two o'clock on a sunny June afternoon in Plumstead, south-east London, and a group of men have gathered to watch Nigeria's friendly game against the Czech Republic at a Nigerian restaurant. The trouble is, it's not on TV.
There are three televisions mounted high up on the white, marble-effect walls, and although they transmit a dizzying array of international channels, none of them is showing the game. There is live action from the French Open at Roland Garros, footage of a youth football tournament somewhere and highlights of matches from last season's Bundesliga and Ligue 1 seasons—but no Nigeria.
Before long, the YouTube home page fills one of the screens. Several combinations of search terms are entered—"Nigeria Czech live stream," "Nigeria Czech Republic live stream," "Nigeria Czech Republic live football today"—but each video that pops up in the search results leads down a rabbit hole of suspicious-looking links and annoying pop-up adverts.
Impatience begins to simmer. All the while, cars, buses and the occasional buzzing motorbike roll past on the A206 outside.
Eventually, one of the men produces a slim, black laptop from his backpack, plugs it into a socket on the wall and manages to find a stream of the game. He positions his laptop on one end of a table, facing into the room, and the other men crowd around on their chairs. We have missed the first 25 minutes of the game in Austria, and Nigeria are a goal down.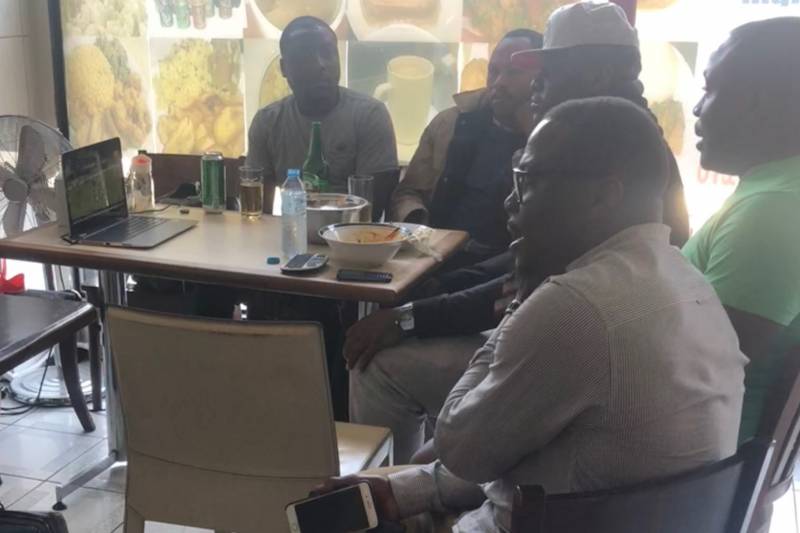 Nigerian fans watch a stream in London.Tom Williams
Nigeria, playing in their dark green second strip, have all the possession but struggle to create chances. Wilfred Ndidi goes close from distance in the first half. An almighty downpour prompts a brief delay during the second half. Odion Ighalo has a gilt-edged chance to equalise in the 67th minute, but, to the disbelief of those watching in Plumstead, the ball gets stuck beneath his feet.
Once the final whistle has sounded, talk at the restaurant switches to how Gernot Rohr's side will fare at the 2018 FIFA World Cup. There are concerns that Francis Uzoho, the 19-year-old goalkeeper, will prove too green. Midfielder Joel Obi is accused of having played within himself in the warm-up games. There is clamour for Rohr to opt for the 3-5-2 system that he turned to at half-time of Nigeria's 2-1 friendly defeat by England at Wembley four days prior.
When Nigeria tackle Iceland in their second World Cup game on Friday (having lost 2-0 to Croatia in their Group D opener on Saturday), the match will be followed with fanatical devotion in London, which is home to one of the largest Nigerian communities outside Nigeria.
The most recent United Kingdom census found there are close to 115,000 Nigeria-born people living in London—the fourth-largest non-native population in the city behind those of India, Poland and Ireland.
Two players in Nigeria's World Cup squad—Alex Iwobi and Victor Moses — grew up in London, and when the new Nigeria kit went on sale recently, the queue outside Nike Town on Oxford Street stretched around the block.
From Plumstead to Peckham via Dalston, Lewisham and the Essex border, there are patches of London that move to a Nigerian rhythm.
---
Iwobi was born in Lagos, Nigeria's most populous city, and moved to London at the age of four. He grew up in Newham, east London, and started playing football for local club Rippleway United alongside his future Arsenal team-mate Chuba Akpom, who is also of Nigerian descent.
Steve McKenzie coached the pair at Rippleway and says that even at the ages of five or six, their ability was staggering.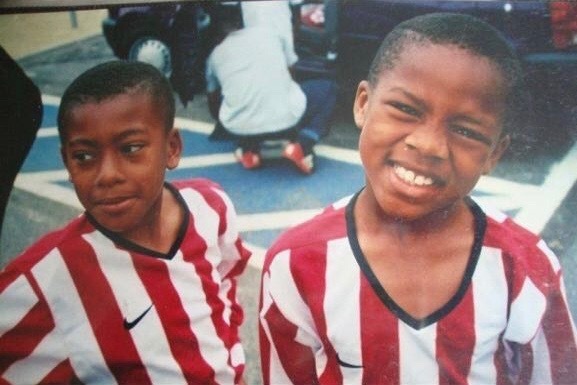 Alex Iwobi and Chuba AkpomCourtesy of Steve McKenzie
"They were miles ahead. They were brilliant. They had control, technical ability, passing, shooting, speed. They had everything," he tells Bleacher Report.
"Sometimes I had to take them off because the scoreline was getting embarrassing. They'd be running up and down the touchline, going, 'Put me back on!'"
Rippleway were allowed to train at Chadwell Heath, West Ham United's training ground. Much to the delight of McKenzie, who is a West Ham fan, the club invited Iwobi and Akpom to train with them.
The pair also attracted the attention of Arsenal (McKenzie recalls one of Arsenal's scouts "hiding behind a tree" while watching a Rippleway match in Walthamstow) and spent time training there as well. When the time came to make a decision, the players plumped for Arsenal, each signing for the club when he turned nine.
Iwobi represented England at under-16, under-17 and under-18 level, but then the trail went cold. Despite being on the fringes of the Arsenal first team, he was not called up by England again.
Heeding the advice of his father and his uncle, Nigeria great Jay-Jay Okocha, Iwobi accepted an invitation from the Nigeria Football Federation to play for the country of his birth. He made his Nigeria debut in a 2-0 defeat by the Democratic Republic of Congo in a friendly in Belgium in October 2015. His senior Arsenal debut followed four weeks later.
"It was a sensible decision," says McKenzie, who remains close to Iwobi and his family. "England didn't want to know him after the age of 16. Nigeria came knocking, and he didn't look back.
"As someone who knows him and what he's gone through, it's unbelievable. He's treated like a king over there."
---
Iwobi, 22, went to the same secondary school as Ola Aina, a London-born right-back who joined Chelsea at the age of 11. Aina played for England at every age level from under-16 to under-20 before switching allegiances to Nigeria last year. He was named in Rohr's provisional World Cup squad but did not make the final cut.
Chelsea wing-back Moses, 27, was born in Nigeria and moved to London at the age of 11 after his father, a Christian pastor, and his mother were murdered in a religiously motivated attack.
Moses was spotted by scouts from Crystal Palace while playing football for amateur club Cosmos 90 FC in a south London youth league. He, too, wore England's colours as a youth international, playing for his adopted country from 2005 to 2010, but in 2011, he switched nationalities.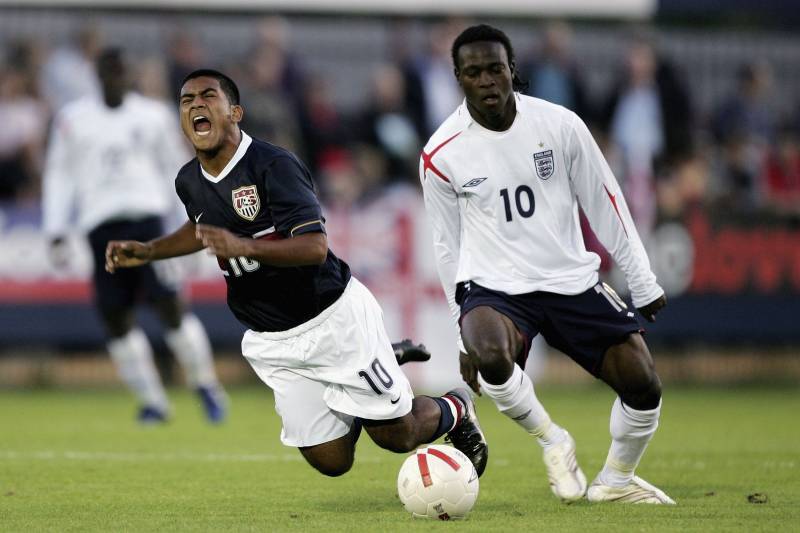 Victor Moses (right) played for England at the youth levels.Getty
While Iwobi and Moses were born in Nigeria, there are four foreign-born players in the Super Eagles' World Cup squad: Bryan Idowu (Russia), William Troost-Ekong (Netherlands), Leon Balogun (Germany) and Tyronne Ebuehi (Netherlands).
David Doherty believes that in the future, there could be even more. Doherty was one of the men watching the game at the Nigerian restaurant in Plumstead. He is also the president of Team Nigeria UK, an organisation set up to help talented footballers of Nigerian descent gain entry to Nigeria's national setup.
Doherty, a former footballer, helped to persuade Aina to align himself with Nigeria's cause in 2017, and although he is realistic about the chances of poaching the most glittering talents from England's age-group teams, he is determined to prevent young players who are eligible to play for Nigeria from slipping through the cracks.
"We can't stop young players of Nigerian descent playing for the likes of England and Germany," he says. "But we're trying to ensure that we curb the loss of those talents."
Team Nigeria UK, which relies on funding from supporters and Nigerian-owned businesses, started in 2015 by staging a trial for 800 youngsters of Nigerian descent at Meridian Sports and Social Club in Charlton, south-east London. The best players from the trial were selected to play in a match against Nigeria's under-17s at Abuja Stadium in the Nigerian capital.
The players who took part included Michael Obafemi (who is on the books at Southampton), Nick Okoro (Birmingham City) and Tobi Coker (Barnet). David Ajiboye (Brighton & Hove Albion) and David Kasumu (Milton Keynes Dons) have also played for the team.
Team Nigeria UK stages trials throughout the year and has been hosted by the Football Association at St George's Park, home to the England national team. The organisation has a presence in Belgium and in New Jersey in the United States, and there are plans to establish a base in Canada.
Doherty wants to leave no stone unturned in the search for promising footballers with Nigerian roots. He says dealing with Nigeria's football federation is a "headache" and has urged the organisation to reserve three or four places for players born beyond the country's borders in every youth-team squad.
"We've said to them that the only way we can encourage these youngsters and have a proper relationship with them is to engage them with the main national team," he says.
"The problem we've been having with the Nigeria Football Federation is that they don't see it. All they want to do is operate in the short term, going for players when they're doing very well and there's hype about them in the media."
One area in which media hype has helped Doherty's cause has been the interest generated by Nigeria's qualification for the World Cup and the release of the team's highly coveted Nike strip, which sold out within minutes of going on sale earlier this month.
"It's attracted more youngsters with Nigerian roots to start coming out," Doherty says. "People of Nigerian descent in Europe are more attracted to saying: 'We're of Nigerian descent. Our parents are from Nigeria.'"
When Iwobi and Moses take to the field in Volgograd on Friday, there is a good chance their successors in the national team will be watching. And they could just as easily be in London as in Lagos.
Comments
comments