At noon on Sunday, Emanuel Santos was at the store buying oil for his car when his phone rang.
"A friend of mine … asked me if I had heard the news," Santos, the sculptor of the infamous Cristiano Ronaldo bust that went viral last year when it was unveiled at the renaming ceremony of Cristiano Ronaldo International Airport, told B/R. "He said, 'All everyone is talking about is the new bust!'"
Santos says his friend told him images were trickling out on the internet: images of a different Ronaldo bust outside the arrivals terminal at the airport in Funchal, Madeira, in place of the one Santos had made of the Real Madrid star last year.
Santos counselled his friend to calm down. "I said, 'Maybe it's an internet joke,' he says. "But he said, 'No, it's real. You have to check it out!'"
Santos quickly made his purchase and left the store. He didn't call anyone—his wife, parents or other friends—to jump online and do more research. There was only one thing to do: drive straight to the airport and see for himself. "I wanted to make sure this is real," he says.
Santos pulled up to the curb outside the airport's entrance, where his Ronaldo bust had rested atop a marble stand.
"I stopped the car slowly and got out of the car," he recalls, haltingly. "I closed the door. I walked to the bust."
There was no one else around. It's true, and there it was—a new bust of Ronaldo, reportedly made by a unnamed Spanish artist.
"I was feeling very sad," Santos confesses. "Disappointed. I have no words. I'm very surprised."
Santos took out his phone and snapped a photo to show as proof when he told his wife the story, if she hadn't already heard the stories. There was nothing else to do. Santos slowly walked back to his car and drove home.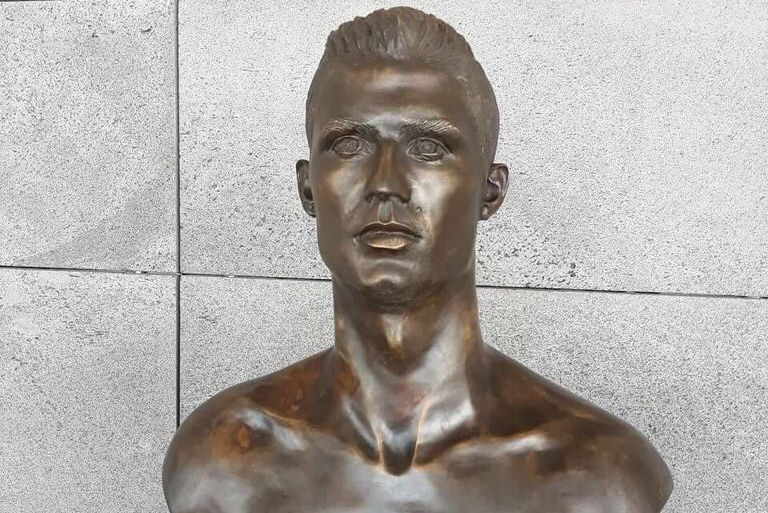 The new bustEmanuel Santos
Santos made his bust of Ronaldo early last year to honour the five-time Ballon d'Or award winner, who was also born in Madeira, a volcanic island 500 miles southwest of the Portuguese mainland.
Shortly after the bust was revealed at the renaming ceremony in March 2017, it went viral, receiving global ridicule. Critics mocked its lopsided smile and close-set eyes.
Santos—who never had any formal training as a sculptor but has other sculptures on display on Madeira—was crushed under the torrent of abuse.
Earlier this year, Bleacher Report documented Santos' attempt to show the world he had talent as a sculptor. He made another Ronaldo bust, which received critical acclaim, but Santos says personally, he likes his original bust better because it more authentically shows the Portugal international's joyful smile.
A year ago today, Emanuel Santos' Cristiano Ronaldo bust was unveiled. The world laughed at him.

We challenged him to try again. He accepted. pic.twitter.com/TLV1iJv1MN

— B/R Football (@brfootball) March 29, 2018
Ronaldo and his family, however, appear to be dissatisfied with the original bust. Ronaldo's brother, Hugo Aveiro, oversees the CR7 Museum on Madiera Island and handles some of Ronaldo's personal affairs.
According to Diario de Noticias Madeira, airport director Duarte Ferreira said "the replacement was requested by the Aveiro family, through the CR7 Museum."
"The museum asked us to replace it and place this bust instead, in homage to the athlete, and we thought we should do it," Ferreira continued. "But anyway we have the other one stored."
The swap was reportedly made last Friday. Aveiro was quoted by Diario de Noticias Madeira saying that he and his brother both think the new bust is superior to the one Santos made for the airport.
"There are no busts or statues in bronze that look like the person," Aveiro said. "What looks like him are both wax statues that I have at the museum, but this bust is better than the previous one, it's what we think, me and him."
But not everyone is in favour of the switch. A Facebook group has been started in support of Santos' first bust.
"That wasn't his face," Aveiro responded to critics of the swap, adding that the original bust Santos made was the family's property and "will be kept in the museum's office."
"We didn't have to inform [Santos, of Diario de Noticias Madeira.
"He did the job, he was paid for it, and as a Spanish sculptor offered this new bust that was well done, we decided to swap them. If he was caught by surprise, that's his problem."
Santos says he's never spoken to Aveiro or Ronaldo about their feelings regarding his original bust, but he has a theory why it was replaced now, two-and-a-half months after his "RonalDo-Over" for B/R received global attention.
While Santos' second version of the Ronaldo bust received wide acclaim, it also brought renewed attention to the first bust—and all the criticism that went with it.
"In my opinion, the family of Ronaldo got upset with the second one," Santos says. "I don't know if I'm wrong."
On Sunday night, B/R emailed Aveiro requesting comment, but as of publication, he has yet to respond.
Santos compares the sting he feels now to the humiliation he felt when his original bust was globally mocked last year.
"It's the same pain," Santos says. "I feel very shocked. In front of my son (Tiago, who is six years old), I have to show I'm OK, you know what I mean? Take all this as something funny, for him."
When asked how this makes him feel about himself as an artist, Santos began his answer composed and confident: "I feel comfortable with my …"
An abrupt halt. An uncomfortably long silence. You can hear him struggle to compose himself.
"I feel sad," he says. "OK? All I wish is that they put my bust again, in that place."
" />