The appointment of Maurizio Sarri could see Chelsea play the football that many at Stamford Bridge are desperate to see, writes Adam Bate.
It is difficult to be certain whether social media has exacerbated the appetite for change or merely given it a voice. What is clear is that there is rampant excitement at the prospect of Maurizio Sarri replacing Antonio Conte as Chelsea manager. Avatars and Twitter handles have already been altered in his honour. Announce Sarri, they demand in their droves.
Yes, it can be a strange old place and a 59-year-old former banker with a long history of unsavoury behaviour >makes for an even stranger youth icon, but Sarri has something they want. He has a knack for producing the flowing football that Chelsea fans feel they are being denied. There is a craving for change and Sarri offers it in spades, triangles and transitions.
Jose Mourinho's comments after the FA Cup final could easily be dismissed as the musings of a man who would say just about anything to deflect attention away from his own team's inadequacies. Even so, his words after watching Chelsea stifle Manchester United on the way to a 1-0 win at Wembley will still have struck a chord with those who once adored him.
"I am quite curious to know what you say or what people write," said Mourinho. "Because if my team plays like Chelsea did, I can imagine what people would say." It was the sort of half-truth that most managers dabble in and the Portuguese has turned into an art form but these are the barbs that often sting the most. Chelsea were anything but thrilling.
It would be rather trickier for Mourinho to direct such criticism at his former club if Sarri were to take over a Stamford Bridge>. In European football, only his old foe Pep Guardiola is quite so lauded for his style of play. It is no coincidence that the Manchester City head coach has been effusive in his praise of the football being played b Sarri's Napoli> side.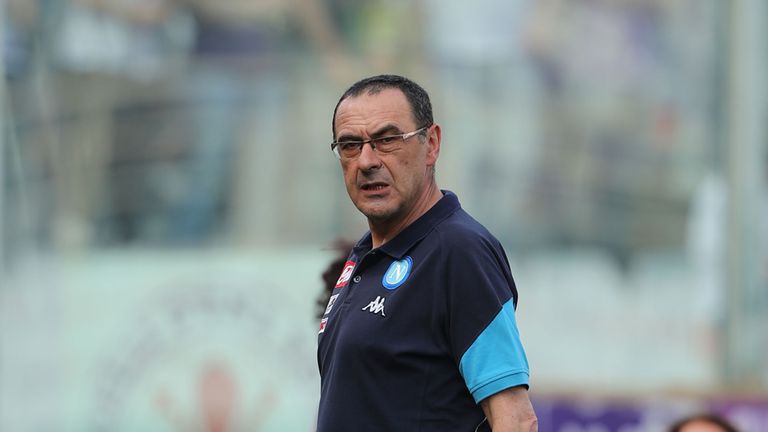 This is front-foot football, not only played with pace and purpose but also with a relentless commitment to passing out from the back. Napoli had the most possession in Serie A and the best passing accuracy. They had the most shots and made the fewest tackles. As club president Aurelio De Laurentiis put it, Sarri was "the author and sculptor" of this beauty.
His admirers call it Sarrismo, perhaps the polar opposite to the Cholismobrand espoused by Diego Simeone at Atletico Madrid. Indeed, Sarri has even said that he would rather return to banking than watch his team play the kind of football that Atleti have enjoyed such success with under the Argentine. It is too defensive. Too reactive. Simply no fun, according to Sarri.
His critics will point out that while Simeone added yet another trophy to his collection with the Europa League victory over Marseille, Sarri fell short this season and remains without any major silverware in his coaching career. It is a valid point and Conte is also entitled to wonder why he, a "serial winner" in his own words, could possibly be seen as the problem.
But the issue is that, just as it is better to win with style than just win, so it is better to lose with style than just lose. Conte was untouchable in taking Chelsea to the title but in finishing fifth this time around he was left exposed because all he could offer was more blood, tears, toil and sweat. It was not appealing to the fans. It was not appealing to the players.
This past season, Chelsea had the minority share of possession againstManchester City,>Tottenham> andLiverpool>, not just away from home but in front of their own fans too. They were too meek and supporters want to see more than that, particularly in light of Guardiola's achievements with Manchester City. A more optimistic vision is needed.
Against that backdrop, it is Sarri, with his long list of big-name advocates and the viral videos showcasing his side's unique style of play, who offers the alternative. He is the man who offers the prospect of another way. Sarri would change Chelsea. And, particularly in this social media age, that is more than enough reason to be excited.
>
Comments
comments