Supporters saw Jürgen Klopp's men do enough in beating Brighton and will hope the real fireworks are to come against Real Madrid in the Champions league final.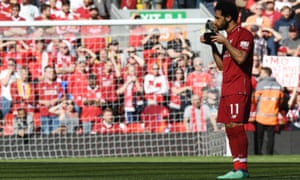 Even though Mohamed Salah ended up with the Golden Boot award and a Premier League scoring record this was not quite up there with his finest performances of the season. Liverpool supporters will be hoping he is saving the mesmeric, catch-me-if-you-can stuff for Real Madrid in Kiev, for this was a more workmanlike display, albeit one good enough to find plenty of holes in the Brighton defence.
There were so many of these in the first half, in fact, that Chris Hughton's side were slightly lucky to turn round only two goals in arrears. Shane Duffy made three potentially costly mistakes in the first 20 minutes and was distinctly fortunate to get away with an apparent handball from Trent Alexander-Arnold's cross and then a clumsy challenge on Salah inside the area.
Had the referee been alert to either of those, Liverpool might have had the opportunity to settle their nerves earlier – as it was they had to wait until just before the half-hour. It was a typical Salah goal in many ways, because it came with practically no warning, just an assured finish on the turn after Dominic Solanke had helped Alexander‑Arnold's ball forward with an inspired and unselfish short pass.
Solanke has hardly figured in the Liverpool side this season but he knows that, if you can find Salah in the box, there is a good chance he will make something happen. So it was here. The forward had instinctively taken up such a good position that all he had to do was turn round to find the goal at his mercy.
There should have been a second Salah goal shortly afterwards, or more correctly a second Liverpool goal, for Sadio Mané passed up an outstanding chance of his own to give the Egyptian an opportunity to add to his haul for the season. One could hardly fault Salah for being up in close support, he almost always is, though Mané should have beaten Mathew Ryan from the six-yard line when he had the chance. Instead he rather telegraphed his intention to leave Salah with a tap-in, allowing the goalkeeper to read it and get a hand to the ball.
At that point Liverpool were only a goal up but so were Newcastle against Chelsea, meaning that the mix-up could be filed under "end-of-season irrelevance" rather than "season‑defining error". One trusts Liverpool will not be as wasteful with chances in Ukraine.
Significantly it was the ever‑impressive Roberto Firmino who set up the chance with a first‑time pass to beat the offside trap. The Brazilian has arguably been Liverpool's key player this season, for all that Salah's goals have earned the headlines and awards. Here he was deployed slightly deeper than usual, with Solanke playing as a notional front man, yet he still covered most of the pitch in his usual fashion, one nonchalant but somehow expected back-heel pass to Alexander-Arnold at the end of the first half drawing a round of applause on its own.
Firmino was also involved in the third goal, after Dejan Lovren's header had to all intents settled the contest. Picking up the ball in space on the right, he waited for Salah to arrive with an inside run before releasing him, for the man of the moment to beat the first defender and send Solanke in on goal. The simplicity of the move was repeated a couple of minutes later as Salah gave Firmino a chance to score only for the Brazilian to spoil an incisive move with a rather tame finish right in front of goal that allowed Ryan the chance to save.
That really was an end-of-season moment, or at least an end-of-league-season miss. Liverpool's campaigna> has still to reach its grand climax, and with that game in mind, and in recognition that the two players complement each other so perfectly, Jürgen Klopp withdrew the pair together eight minutes from the end. The Kop does not have a song for both of them, so the chant for Salah was quickly followed by the one for Firmino. Anyone watching on behalf of Real Madrid could only have been impressed by the crowd's fairness.
Mostly, though, they would have been impressed by the fluidity and understanding between Liverpool's attacking triumvirate of Salah, Firmino and Mané, even in a game in which little in the end was at stake. Now that all three have made it through t league season unscatheda>, Liverpool's only task over the next couple of weeks is to make sure they can switch back on to full intensity when the big occasion demands it. Real Madrid themselves are pretty good at doing that but Liverpool, too, have a tradition of rising to the European challenge. Just asManchester City or Roma.a>
FOR MORECLICK ONa>
Comments
comments