The all-conquering Old Lady has no plans to abdicate her throne even with the inevitable summer changes ahead.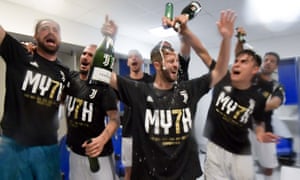 Last May, the commemorative T-shirts celebrated a "Le6end". This year, Juventus went with "My7h". Even as players popped champagne corks for the second time in four days at Rome's Stadio Olimpico, it was tempting to imagine a marketing team somewhere planning the slogans and hashtags for the next round of celebrations in 12 months.
Seven consecutive Scudetti. No club had even won six in a row before the Bianconeri embarked on their present run. Across Europe's top five leagues, only Lyon, at the start of this century, have enjoyed such an uninterrupted spell of domestic dominance. Even then, they did not pair Ligue 1 success with cup triumphs. Juve's 0-0 draw with Roma on Sunday sealed an unprecedented fourth straight Serie A and Coppa Italia double.>
Whether that is an achievement to celebrate, or a cause for lament might depend on your perspective. The front page ofMonday's La Repubblica sport/a> section reminded us: "Hegemonies do not help a system to grow."
Beneath that headline, Angelo Carotenuto drew links between the advent of pay TV and a diminished competitiveness: accusing clubs of prioritising comfortable economics over competitive championships. Even in Spain, he noted, where a duopoly exists, other clubs have found success in Europe.
There is merit to such arguments, and it is true that too few Italian clubs have shown the ambition Juventus did in building their own ground at the start of this decade, as well as adapting in other ways to the modern commercial environment. Since moving into what is now the Allianz Stadium, Juventus have won the league every year and increased their annual revenues almost three-fold.
And yet, in this specific season, is it fair to put the Old Lady's success down to a lack of competition? Napoli's title challenge fell apart at the crucial moment, but with a victory over Sampdoria they nevertheless reached 88 points: a club record iSerie A/a>. If they win at home to Crotone on the final weekend, they will become the first team to fail to win the Scudetto with more than 90.
Juventus are too strong, too unerringly consistent. Finances have skewed the playing field, but we ought not let that obscure the fact that their achievement is astonishing. The wealthiest clubs will generally prevail in football, but it is not true that they always do –  Monaco aLeicester.
Perhaps, if Juventus were still performing as poorly in Europe, their achievements might be easier to dismiss. But this team has been to two of the past three Champions League finals and was eliminated this year by a last-minute goal away at the Bernabéu.
It is the resilience of this team that marks it apart. Juventus had been atrocious the first leg against Madrid, yet somehow attacked the return game with the conviction of a side that still believed it could find a way through.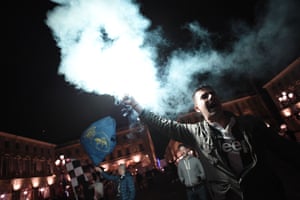 Domestically, they always do. Juventus were four points behind Napoli when they travelled there in December. The Partenopei were playing the better football. Massimiliano Allegri had his team dig in and grind an uninspiring but nerveless 1-0 victory..
Similarly, when Napbeat them in Turinn and seemed to blow the title race wide open, Juventus refused to yield. From 2-1 down to Inter in the 87th minute at San Siro one week l they emerged with a win.n.
Napoli manager Maurizio Sarri defined that as the moment when the race ended. His team had been watching at their hotel in Florence. Deflated, they sluto a 3-0 defeatat against Fiorentina. It was an almost identical scenario to the one in March, when Juventus stole an injury-time win out of nowhere at Lazio, before Napoli imploded against Roma.
In the truly essential moments, Juventus deliver. That is a testament to Massimiliano Allegri. He is a man who prefers to play down his own input, arguing that a manager can only improve or damage his team's performance by 5%. Looking on his four years at Juventus, it is hard to agree. Yes, the resources outstrip all their rivals, yet he has also dealt with a constantly shifting squad, key players leaving every summer he has been at the helm.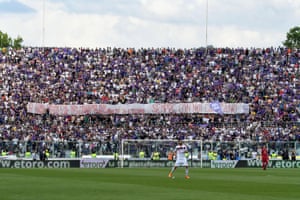 • Cagliari's win lifted them out of the relegation zone and, combined with victories for Udinese and Chievo, dumped Crotone back into 18th spot.
• Sampdoria's game at home to Napoli was halted for several minutes in response to discriminatory chants from the home support towards people from Naples. Samp's owner, Massimo Ferrero, even walked out to plead with fans and appeared to be heeded, although only after being abused himself.
READ CLICK ONON
/>